Category: Scottish Ceili/Ceilidh
Description: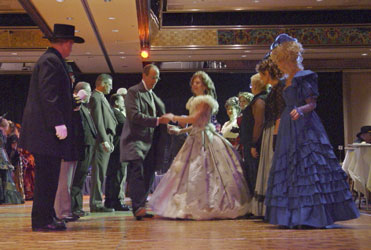 A longwise set of four or more couples. The men on the right (left shoulder facing the band) ladies opposite them. The first couple is nearest the band.
Videos:
This video has the ladies and gents reversed but the more important point is that the top couple are nearest the band.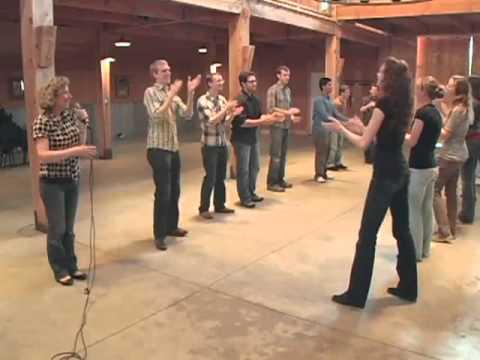 1
Everyone
Bow to your Partner Advance and bow, retire back to place (4b) turn partner with right elbow (4b).
8
2
Turn your partner Turn partner with left elbow (4b), turn partner clockwise with both hands (4b).
8
3
Do-si-do Advance right shoulder to right and dance back to back with your partner and retire to home (do-si-do) (4b), repeat left shoulder to left (4b)
8
4
1st Couple
Slip down the set Top couple take both hands and side slip (slide) down the set (4b) and slide back up the set (4b)
8
5
Everyone
Strip the willow Strip the willow. Top couple turns all the way around (1 1/2 turns) with right elbows (2b), give left elbows to the next person in the opposite line, turn around them (2b), give right elbow and turn around with your partner, give left elbow to the next person in the line. Continue until you reach the end of the set. Turn one more time around each other, take hands and slip back to the top of the set. While 24b is shown for this movement it generally takes as long as it needs depending on how many couples there are and how well they know this movement!
24
6
Cast off Top couple cast off, gent to the left, lady to the right and dance to the bottom of the set while the other dancers follow. Tops make a bridge and the other dancers go under and dance to the top of the set.
The dance repeats with a new top couple.
16
Added on 2014-04-29 04:45:06.
Modified on 2016-06-09 19:20:43.
Sign in
to see who added or last modified this dance.